A Day Trip to Mantova and Mincio River (from Milan)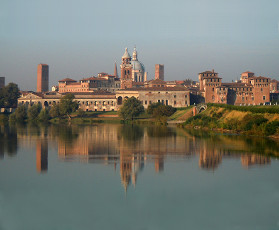 Visit Turin
A Day Trip to Mantova and Mincio River (from Milan). Leaving Milan on a comfortable, safe and relaxing train and reach Mantova, a truly delightful small city of Northern Italy, rich in culture and history.
It was declared a UNESCO World Heritage Site for its exceptional testimonies of urban, architectonic and artistic realizations of the Renaissance period. The Latin poet Virgil, the Gonzaga Family and the artist Mantegna are perhaps the most famous names. But Mantova is also surrounded on three sides by lagoon-like lakes, smothered in blooming lotus in mid-summer, giving this atmospheric old town an incomparable charm!
Experience a magnificent cruise on the Mincio River and get enchanted by the impressive city skyline and by the panoramic views of its green landscapes!
Then walk around the narrow medieval streets of the city center and enjoy its lovely squares, where both locals and visitors meet night and day!
Meeting Point: 15 minutes before the tour starting time in Central Train Station (in front of platform 14).
The price includes: guide service, open tickets for train and boat, boat trip along the lakes and the Mincio River, entrance ticket to the Ducal Palace.
The price doesn't include the lunch.
Please Note: clients are requested to be at the meeting point 15 minutes before the tour starting time, otherwise it will not be possible to join the tour.
We suggest you to wear comfortable shoes, to protect yourself from the sun during summer. Not wheelchair accessible.
PLEASE NOTE: FOR GROUP GUIDED TOURS THERE AREN'T ANY REDUCTIONS. ALL VISITORS HAVE TO RESERVE THE FULL PRICE TICKETS (INDEPENDENTLY FROM THE AGE, THE NATIONALITY ETC...)
CANCELLATION POLICY

TOUR CAN NOT BE MODIFIED, CANCELLED OR REFUNDED UNDER ANY CIRCUMSTANCES.