Last Supper & Sforza Castle
electronic voucher accepted
The Itinerary:
Leonardo's Last Supper (Church of Santa Maria delle Grazie), Sforza Castle.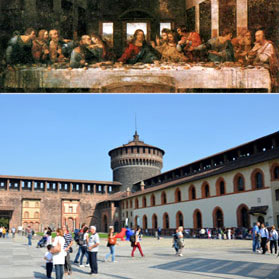 Last Supper & the Sforza Castle. During this tour you will explore the eclectic world of Leonardo da Vinci, unique genius and absolute example of Renaissance polymath, through his artistic masterpieces, studies, sketches, manuscripts and revolutionary inventions. He strechted in several sectors, he was an engineer, an architect, an anatomist, a musician, a botanic, an inventor, a scultor and, of course, a great painter.
The guide will show you the wonderful Renaissance church of Santa Maria delle Grazie and it's well-known refectory, house of the greatest work painted by Leonardo, "The Last Supper". The entrance is allowed only to people with a reservation and our guided tour gives you the chance to see this fresco known all over the world!
Finally we will proceed to the Sforza Castle,the medieval fortress and ancient residence of the dukes of Milan, that now houses several museums and important art collections. It's was one of the largest fortresses in Europe and it's located along the largest park of Milan, the Sempione Park. From the Castle it's possible to see the Arch of Peace one of the symbols of the city, commissioned from Napoleone to Luigi Cagnola in 1806.

Last Supper & Sforza Castle Group Guided Tour
Starting Time: 12.00 pm
Duration: about 1.5 hours
Language: English
Meeting Point: 15 minutes before the tour starting time in front of the main gate of the Castle or in front of the entrance to the Leonardo's Last Supper
Price: 50,00 Euro per person
booking
The price includes: guide service, entry ticket for the Last Supper.
Please Note: clients are requested to be at the meeting point at the time specified on the voucher otherwise admittance will not be granted.
PLEASE NOTE: FOR GROUP GUIDED TOURS THERE AREN'T ANY REDUCTIONS. ALL VISITORS HAVE TO RESERVE THE FULL PRICE TICKETS (INDEPENDENTLY FROM THE AGE, THE NATIONALITY ETC...)
CANCELLATION POLICY

TOUR CAN NOT BE MODIFIED, CANCELLED OR REFUNDED UNDER ANY CIRCUMSTANCES.
Customers who booked this tour also booked: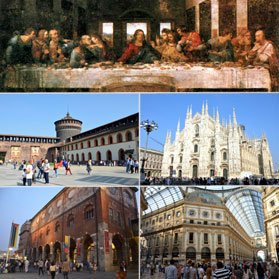 This tour will be a walking route, to best appreciate the most interesting...
Click here for more information.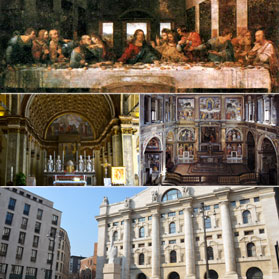 Discover the most hidden and precious treasures of Milan and then admire the world famous...
Click here for more information.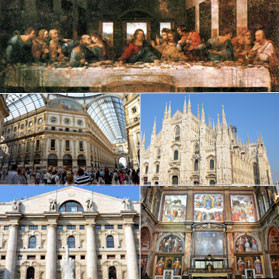 Admire the highlights of Milan with this full day tour. Art and fashion are...
Click here for more information