Total Milan Experience
electronic voucher accepted
The Itinerary:
Last Supper, the church of S. Maria Delle Grazie, the Duomo Cathedral, Galleria Vittorio Emanuele II, the Scala Theatre Opera House (from the outside), Piazza dei Mercanti, Sforza Castle, Sempione Park, the 'Pietà Rondanini' by Michelangelo, San Maurizio al Monastero Maggiore, L.O.V.E. by Maurizio Cattelan.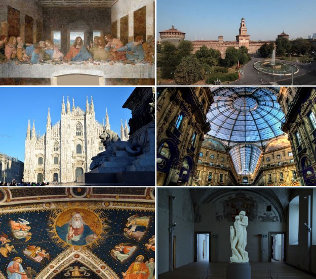 Total Milan Experience. A full day tour discovering the highlights of Milan. Don't miss the opportunity of admire the Leonardo's Last Supper and to make a total Milan experience tour. A 6-hour visit with an high qualified English speaking guide. Wear comfortable shoes and walk into this beautiful city.
In the rare occasion that the museum housing the Pietà Rondanini is not available, the museum of Ancient Art of the Castle will be visited.
Some of the venues (or parts of them) may be subject to last-minute, unpredictable closures (ongoing restoration, mass celebrations, special events). When this occurs, we offer the customers an extended visit of the outside and/or of other attractions according to the advertised total length of the tour.
Total Milan Experience Guided Tour
Starting Time: 9:15 am.
Duration: about 6 hours
Language: English
Meeting Point: 15 minutes before the tour starting time in Piazzale Cadorna (Green or Red Metro Line, stop at 'Cadorna'). Meet the guide next to the huge monument in the middle of the square, the 'Needle and Thread'
Price: 112,00 Euro per person
booking
The price includes: guide service, entry ticket for the Last Supper, priority access to the Museum of Michelangelo's 'Pietà Rondanini' and to the San Maurizio Church, 3-days Duomo Museum Pass, Castle Sforza museum pass, headphones.
Please Note: clients are requested to be at the meeting point at the time specified on the voucher otherwise admittance will not be granted.
PLEASE NOTE: FOR GROUP GUIDED TOURS THERE AREN'T ANY REDUCTIONS. ALL VISITORS HAVE TO RESERVE THE FULL PRICE TICKETS (INDEPENDENTLY FROM THE AGE, THE NATIONALITY ETC...)
CANCELLATION POLICY

TOUR CAN NOT BE MODIFIED, CANCELLED OR REFUNDED UNDER ANY CIRCUMSTANCES.
Customers who booked this tour also booked: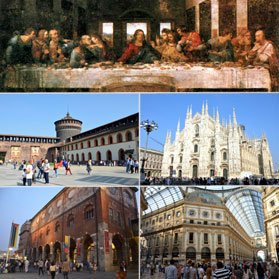 This tour will be a walking route, to best appreciate the most interesting...
Click here for more information.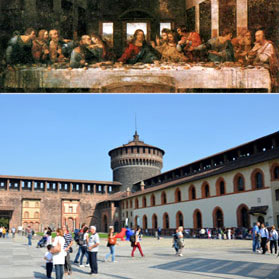 Leonardo was a universal genius, an absolute example of Renaissance polymath...
Click here for more information.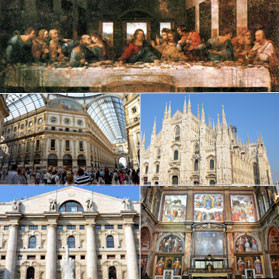 Admire the highlights of Milan with this full day tour. Art and fashion are...
Click here for more information