Last Supper & Milan in one day
electronic voucher accepted
The Itinerary:
The Duomo Cathedral, Galleria Vittorio Emanuele II, the Scala Theatre Opera House (from the outside), Piazza dei Mercanti, Sforza Castle, Sempione Park, Arch of Peace, Leonardo Da Vinci's 'Last Supper', the church of S. Maria Delle Grazie, San Maurizio al Monastero Maggiore, L.O.V.E. by Maurizio Cattelan, San Satiro and Bramante's optical illusion, the Fashion District with Montenapoleone Area, San Babila Square, the Needle, Thread and Knot of Piazza Cadorna.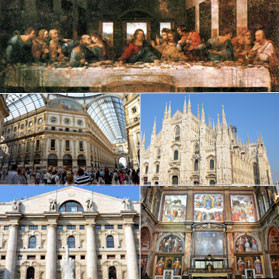 Last Supper & Milan in one day. Admire the highlights of Milan with this full day tour. Art and fashion are the two most important elements at the basis of this big city.
Your expert guide will lead you through the Milan treasures from the renowned Last Supper to the magnificent gothic Cathedral.
You will walk through the medieval Mercanti Square, then you will reach the San Satiro church with its fascinating trompe l'oeil perspective painted by Renaissance genius Donato Bramante.
Milan is also Modern Art, so take advantage to this tour to appreciate the provocative "L.O.V.E." sculpture (a.k.a. "The Finger") by Maurizio Cattelan.
For fashion lovers this tour provides for a leisurely walking tour along Montenapoleone street, Via della Spiga and to the elegant Galleria Vittorio Emanuele with its cafès and boutiques.
The entrance to the mentioned sites is always guaranteed, but the itinerary can differ according to the daily opening hours of Churches and religious services, or due to public maintenance works, or also during extraordinary local events (such as Expo2015 ).
Last Supper & Milan in one day Group Guided Tour
Starting Time: at 9:30 am.
Duration: about 6 hours, you will have free time for lunch (not included) from 12:30 pm to 2:00 pm
Language: English
Meeting Point: 15 minutes before the tour starting time in Piazza Luigi Cadorna 14.
Price: 105,00 Euro per person
The price includes: guide service, entry ticket for the Last Supper; Cathedral, St. Maurizio and St. Satiro reservation fees; public transport tickets when used.
Please Note: clients are requested to be at the meeting point at the time specified on the voucher otherwise admittance will not be granted.
PLEASE NOTE: FOR GROUP GUIDED TOURS THERE AREN'T ANY REDUCTIONS. ALL VISITORS HAVE TO RESERVE THE FULL PRICE TICKETS (INDEPENDENTLY FROM THE AGE, THE NATIONALITY ETC...)
CANCELLATION POLICY

TOUR CAN NOT BE MODIFIED, CANCELLED OR REFUNDED UNDER ANY CIRCUMSTANCES.
Customers who booked this tour also booked: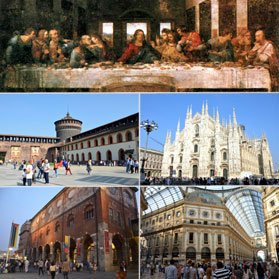 This tour will be a walking route, to best appreciate the most interesting...
Click here for more information.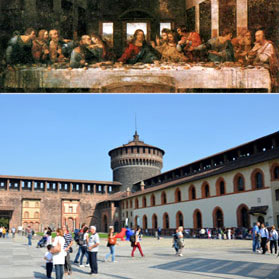 Leonardo was a universal genius, an absolute example of Renaissance polymath...
Click here for more information.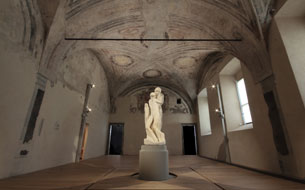 A full day tour discovering the highlights of Milan. Don't miss the opportunity of...
Click here for more information