Gift Voucher – Give Art!
(Last Supper, Brera Gallery, Codex Atlanticus...)
(Entrance Tickets, Guided Group Tours, Private Tours...)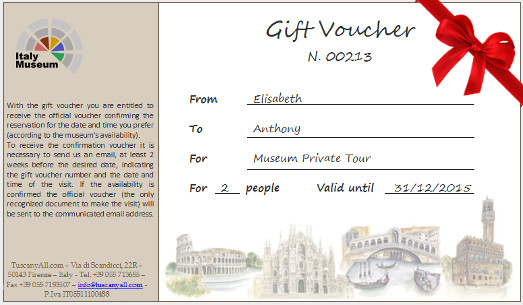 A unique occasion to give as a gift a guided visit of the main cities and attractions of Italy or the entrance tickets for the most important italian museums.
How to purchase a gift voucher: you only need to fill in the following form with all information regarding your present and send us the request. Afterwards you will receive by email the instruction to complete the payment and then the gift voucher for the lucky person who will receive your gift.
With the gift voucher you are entitled to receive the official voucher confirming the reservation for the date and time you prefer (according to availability).
After purchase: the lucky recipient of the gift has to send us an email, at least 2 weeks before the desired date, indicating the gift voucher number and the date and time of the visit. If the availability is confirmed the official voucher (the only recognized document to make the visit) will be sent to the communicated email address.
Ask for your Gift Voucher: