Audio guided visit to
the Leonardo's Vineyard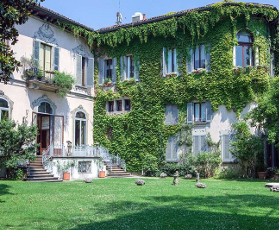 Audio guided visit to the Leonardo's Vineyard A stone's throw from the Last Supper, in occasion of the Expo 2015, has been opened to visitors the Leonardo's Vineyard.
Given as a gift from Ludovico il Moro to Leonardo, in the 1482, the vineyard rises at the end of the Casa Atellani garden.
Now with this unmissable audio guided visit you can deepen the story hidden behind this magic place (available language: Italian, English, German, French, Spanish, Japanese, Korean, Portuguese, Chinese and Russian - duration: about 25 minutes).
OPENING TIMES
Monday - Sunday: from 9:00 am to 6:00 pm (last entrance at 5:30 pm)
This ticket DOESN'T include the entrance to the Last Supper
The price includes: audio guide, entrance ticket, reservation fee and online service (this ticket DOESN'T include the entrance to the Last Supper).
HOW TO CHOOSE THE CORRECT TICKET
Reduced price tickets
- people over 65 years of age
- students between 18 and 25 years old
- children between 6 and 18 years of age
Note: Online fees (from 5.00 €), pre-sale fees and eventual temporary exhibition fees are always due except for children under 6 year of age (in this case ticket is not necessary).
CANCELLATION POLICY
Tickets are NON-REFUNDABLE under any circumstance.