Leonardo's Last Supper
and Pinacoteca Ambrosiana
Leonardo's Last Supper and Pinacoteca Ambrosiana
••• Special Discounted Combination •••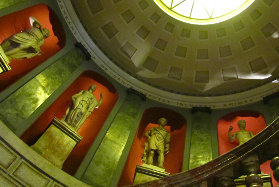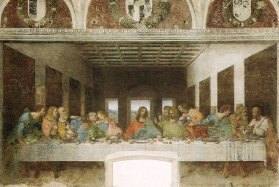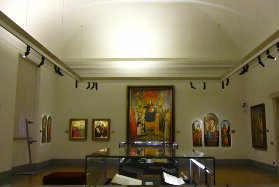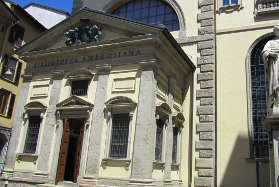 Leonardo's Last Supper and Pinacoteca Ambrosiana. This special ticket combination includes the entry tickets to the two most important art galleries of Milan that you cannot miss, also this combination will allow you to visit them without waiting in line . The combination is offered at 34.00 euro instead of 38.00 euro. When temporary exhibitions are planned, the price can be increased with the temporary exhibition mandatory extra charge imposed by the museum authority.

In the refectory of the Dominican convent adjoining the church of Santa Maria delle Grazie, houses one of the world's most celebrated works: Leonardo da Vinci's "Last Supper". Painted between 1494 and 1498 under the rule of Ludovico il Moro, Leonardo abandoning the traditional method of fresco painting, depicted the scene "a secco" (on a dry wall) on the wall of the refectory.
Extensive measures have been implemented to protect the fresco from further exposure. To ensure that the fresco be kept at room temperature, since restoration the visitor intake has been restricted to a group of 25 admitted every 15 minutes.

The Pinacoteca Ambrosiana is a historic library of Milan. Named after Ambrose, the patron saint of Milan, it was founded by Cardinal Federico Borromeo (1564–1631), whose agents scoured Western Europe and even Greece and Syria for books and manuscripts. Some major acquisitions of complete libraries were the manuscripts of the Benedictine monastery of Bobbio (1606) and the library of the Paduan Vincenzo Pinelli. Opened in 1618 it is also the oldest museum in Milan. It was created to inspire and encourage upcoming Italian artists. Over the years the large collection of art has grown, thanks to many generous private donations. It contains important works like Raffaello's cartoon for "The School of Athens" fresco; Caravaggio's "Basket of fruit"; Botticelli's "Madonna con Bambino e tre angeli".
Get your tickets online!
Avoid the long queue at the entrance! An exclusive booking service to get your tickets.
booking
Daily group guided tours!
Discover the museum through a group guided tour with a skilled tourist guide.
Reserved entrance, no need to queue and guaranteed daily departures!!!
booking
A skilled tourist guide at your disposal!
Discover the museum with your private guide!
Reserved entrance, no need to queue and you can decide the starting time of your visit!
booking
Customers who booked this ticket also booked: